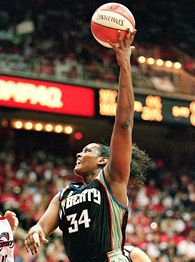 She will undoubtedly go down as one of the most dominant centers in WNBA history. Known for her tough moves around the basket and tenacious rebounding, this Louisville, KY, native's playing career spanned two decades while her influence and community involvement is unmeasured. Her name is Kym Hampton and here is our interview:
BW: Who was your idol and why?
KH: I never really had one. I just appreciate people that are great at
what they do and carry themselves in a classy manor.
BW: What NBA were you similar to when in the WNBA?
KH: I'd say Charles Barkley and Oakley, Olajuwon (and I'm talking from
the onset to finish of my career).

BW: Do you think women will ever play in the NBA? If so, when?
KH: I don't think so. I wonder why people would want to diminish the
great skills of a woman by placing her in an environment that doesn't
consistently showcase those skills?
BW: How do you think the Liberty will be this year?
KH: I think the Liberty is going to have a great season this year. We
added some great players to the roster and they are ready to go! You
guy's should come to some games this year!
BW: Who is your favorite current WNBA player?
KH: I like Candice Dupree, Silvia Fowler, Cappie Pondexter, Shameka
Christon, Kia Vaughn, Diana Taurasi, Lauren Jackson...so many more.

BW: How long do you think the UConn womens win streak will last?
KH: Until this upcoming season.